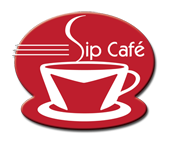 Why does my coffee have grounds in it?
We French press all of our coffee. While this provides a strong, smooth, and rich cup every time, the nature of the preparation means that there may be a few stray grounds at the bottom. Don't worry; we never drink the last sip either.
What beans do you use?
We get our coffee solely from Drew's Brews, a local roaster in the neighborhood. We carry 4 or 5 different varieties at any time, and can bag any of these for you in half pound or pound bags. Along with Mike, Drew developed our own espresso blend specific to Sip Café – Sipresso.
Where do you get your ice cream?
We are proud to say that we make all of our own ice cream right at the Café. Nicole and Kevin tirelessly toil to keep us well stocked on some of our classic flavors like Red Velvet Cake and Tennessee Fudge, along with some more fun new varities like Tart Ginger Peach Yogurt or the Mexican rice milk Horchata.

Do you serve breakfast/food?
We offer a variety of pastries from Provence Breads that are delivered fresh each morning. We do not serve any other food. Being located in Riverside Village, we are lucky enough to have a symbiotic relationship with our neighbors. Mitchell Delicatessen is next door and has a delicious hot bar breakfast using free range eggs and Benton's farms products, along with a dizzying amount of sandwiches and hot plates. Castrilllo's Pizza, Watanabe Sushi and World Cuisine, and the Village Pub are also in the Village and provide many different options for eating.
Have a question we didn't answer here? Ask us in the Sip Café suggestion box!